The Omaxe Spa House is delightful and classic, decorated with artefacts & lights that enhances the look of the house.
Give them the old razzle dazzle!
The Omaxe Spa House is a contemporaneous habitat of the modish Gulri family in New Delhi. The cutting edge design to this modern delight of an apartment is executed by Mr Amardeep Gulri of the Deco-Arte studio. The house is curated with contemporary space features a mix of strong horizontal composition, large open floors, intentional asymmetry and large expanses of glass windows. It reflects vogue and high-shine with suitable décor and lays emphasis on the simple purpose of life in such a space.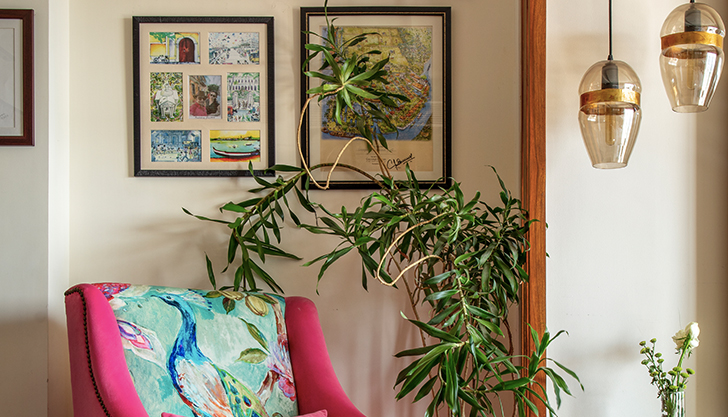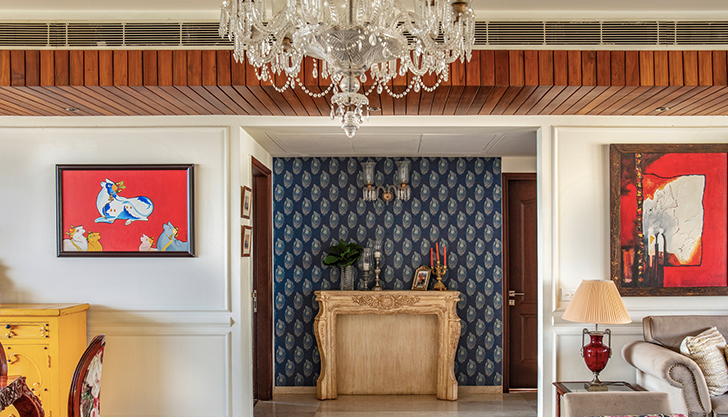 The granite flooring and the sofa with velvet upholstery act as a canvas to the contrasting dark floral and the gold-coloured cushions adds a Boho zing to the space. The wooden false ceiling and the paintings with bold colours against the neutral tone of the cream-white walls add vitality to the living space. The attractive coffee table is the centrepiece that tastefully ties in all the elements of the room.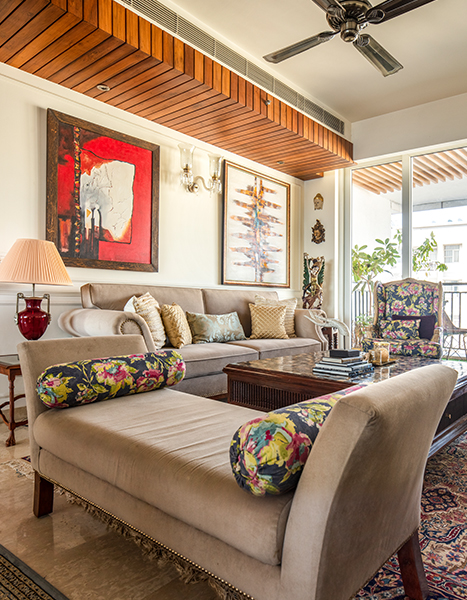 The tropical ambience fills up the area with a gorgeous dining table set that makes heads turn and gape at this unique piece of furniture finished with Asian Paints Polyester that adds a touch of drama. The sombre green upholstery to the chairs with the back supported by solid hues of the flower print and the selection of material palette adds a suave touch against the Asian Paints Royale Emulsion neutral coloured walls. The potted plants in the rear and the wooden false ceiling add on to the lush-green tropical vibe.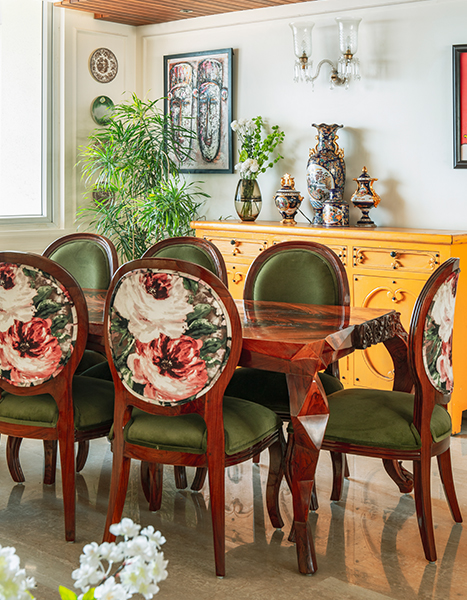 The design-savvy bar counter conceals the otherwise-open kitchen completely and cleverly providing extra storage space in the process. The antique artefacts are a great addition to this section that enhances the chic look of the bar on the whole. However, the unique feature is the subtle Royale Play Midas gold-leaf colour, which reflects simplicity and luxury in a single tone. While it is a delightful spectacle, the gold-leaf shade breathes life into the bar counter making it a haven of peace and comfort within the abode.
The pink walls are finished with Asian Paints Royale on one side and the wallpaper from New Neutrals Collection on the other. The theme of this children's space would make a daughter feel special. The trunk fixed to the wall is a creative approach that enhances the visual appeal. The lamp and the side cupboard are a unique choice of furnishing that weaves into the concept with ease.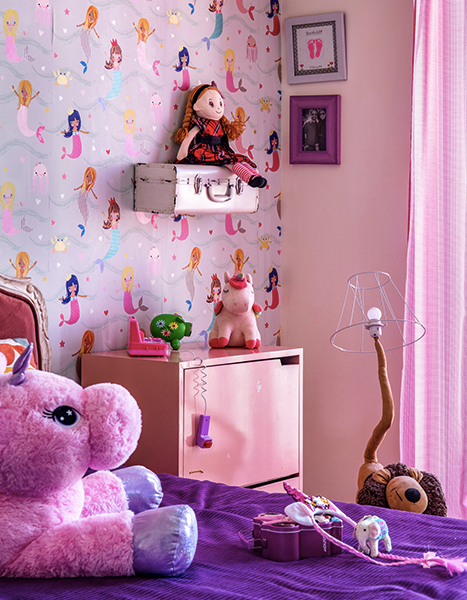 The Ranthambore wallpaper from Sabyasachi for Nilaya Collection emanates warmth and radiates glamour through this wall. The resplendent wooden side-table by the wall adds an imperial touch to this corner.