Unlike most other years, we were all relieved to see 2020 go. Even when the lockdown is over and the dust has settled, the world remains far from normal. Your home is the only place of harmony in the midst of all the noise and chaos. So, if you held yourself back doing your house interiors last year, now is a fantastic opportunity to do it. Take a look at our list of interior design trends for 2021 to see what you can do to make your home more appealing!
These new trends for Interior design will take a drastic transition, as each one will be born out of a genuine need. As we learn to live in a pandemic condition, these trends will show how our living spaces are coping as well. 
Light-Colored Wood
The basic color of each wood varies. Teak and mahogany, for example, are dark woods, but maple and rubberwood are lighter in color. It's important to keep in mind that light-colored wood is a hallmark of Scandinavian design (signifying functionality, simplicity, and craftsmanship). Light-colored wood, and lighter gradients of wood-colored laminates and finishes, are expected to be popular this year.
Warmth and, in some circumstances, the texture is intended to be added to a space by using wood tones. On the other hand, light-colored wood helps to open up spaces. As a result, wood finishes can now be used in even the tiniest of areas. Light-colored timber flooring will surely be popular this season.
Pantone Colors
Pantone has named not one, but two colors for the first time in 22 years. Pantone announces a color every year that is expected to dominate industries such as fashion and interior design. The color of last year was classic blue. For 2021 it is, Ultimate Gray, a deep and dark grey that represents persistence and maturity, with sunny yellow hue that represents hope. The two colors are meant to work together as a complementary combination.
Grey gradients, or even greiges (beige and grey), work well as backgrounds for bright colors like yellow. As a result, a bright yellow headboard against a grey wall would be a great idea. In an otherwise plain living room, a yellow couch can add a splash of color. You may also go with yellow for the soft furnishings and grey for the rest of the space.
The Grand millennial Style
Simply defined, a grand millennial is a millennial who has grown tired of the design monotony that we see on our Instagram feeds (both at home and in fashion). They're a new type of millennial traditionalists who like to "collect" items from the past and "layer" their homes with these collections to represent themselves. As a result, numerous seemingly-archaic elements might be a part of grand millennial's personal collection.
In a grand millennial's home, you can expect to find a plethora of old items. It might be a skirted dressing table or an old recliner. It could be a large collection of blue and White China or a collection of crocheted pillow coverings. The home interiors stand out because of the eclectic mix of relevant personal influences from the past. Therefore, we learn there is no proper manner to do things, only a personal manner.

Curves Replace Straight Lines
Curves and smooth edges give home a relaxed and pleasant feel. Boxy edges and clear lines, which were once essential elements in modern interior design trends, are being replaced by these organic, pleasant shapes. Trends in 2021 will include puffy sofas and soft chairs, as well as circular furniture, mirrors, artwork, and more.
Your sofas should now have rounded arms, and round coffee tables will be all the rage soon. Consider adding a circular rug to the mix to suit your furniture's curves.
Cozy Accoutrements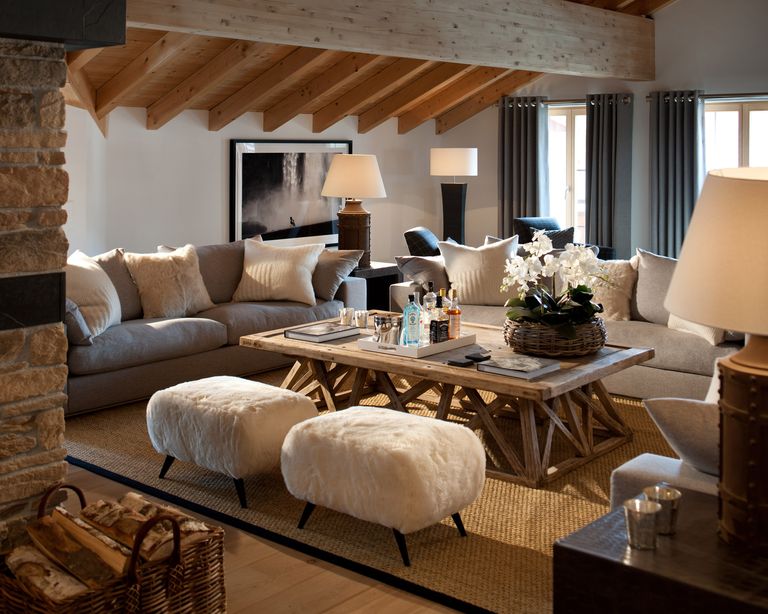 Especially in the winters, I want a space to feel welcoming and warm, especially after a hectic day of working remotely. You can accomplish this by adding more pillows to ensure that every seat in the house is comfortable, or by placing a warm wool or cotton-blend throw on the end of a couch or on an accent chair. These additional textures and dimensions have a significant impact on how a room is appreciated.

Materials like Rattan Cane and Terrazzo
Our texture of choice for the year would be woven rattan, and our pattern would be speckled Terrazzo. Both materials are very popular and can be used throughout the interior design of your home.
Cane furniture, rattan mattresses, baskets and planters (made of rattan or cane) are all excellent ways to add texture to your house. The good news is that they complement light-colored wood (which is also popular) and the Pantone color of the year.
Terrazzo is typically used for wall cladding or flooring. You can use it in antiquities, as well as speckled upholstery and soft furnishings because the pattern will be fashionable in and of itself.
Statement Lighting and Ceilings
People are becoming more creative with their lighting choices, using them as a statement design aspect in a room. People used to go toward can and recessed lighting, but today we're seeing a lot of pendants and hanging lights utilized to anchor spaces.
Current interior design trends include the use of ceilings. Both residential and commercial settings can benefit from bold colors and patterns, mirror fixtures, and ceiling-mounted painted art. Despite its unconventional design, this new interior design trend produces an appealing look and adds a fun and unique touch to the area.

This is where you will need us, our company Deco-Arte is an interior architecture studio providing services based on our client's budget, scope, schedule and operating practices. We have the expertise and experience to weave all of these trends and create a masterpiece you will be comfortable living in.
So, the next time someone asks "Do you know any interior decorators near me?", you know where to point them. Contact us for further details regarding our services.