Homebuyers today desire additional rooms and space within their balanced budget, yet these places are becoming increasingly tight. Homebuyers in India are correct in their desire for 'more for less,' i.e., 'more space at a lower price.' Especially in the post-pandemic period, the tendency is shifting towards rooms like efficient utility rooms.
A 'utility room' allows us to complete multiple activities and jobs in one space.
Middle-class families, on the other hand, do not appear to be able to afford a utility room. So, the question is: How can we best utilize the spaces in our home?
Here are some pointers that all the best interior designers in India take into consideration, to make the most of tiny areas. Interior design firms can do wonders by bringing life, functionality, and inspiration to even the tiniest of places!
In this blog, we'll go over 13 interior design tips for the all-important 'utility room'.
1. Brightening up small spaces with wallpaper and lighting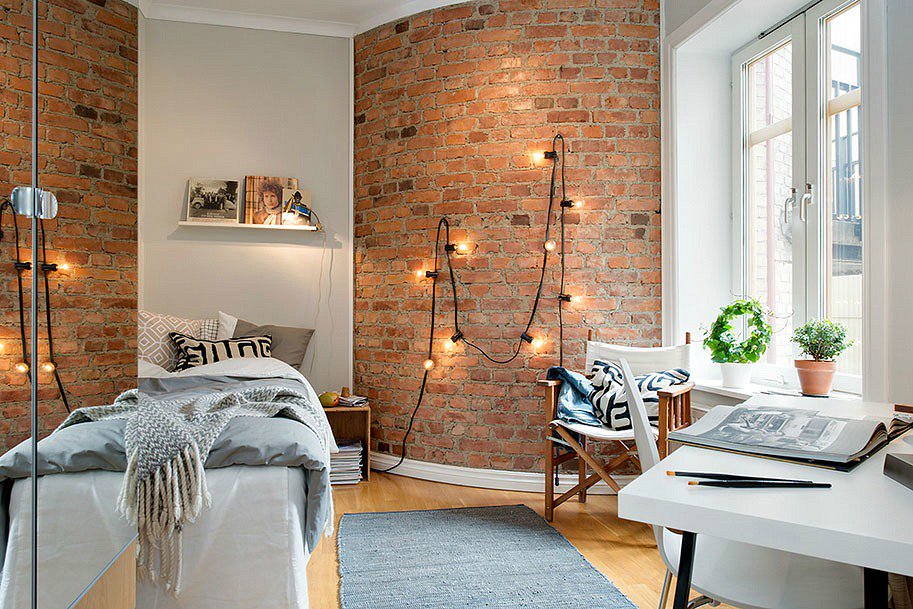 • A utility room with attractively designed rooms may be an inspirational location to work.
• Washing and drying machines could be hidden behind cabinet doors, allowing us to focus on the lovely workstations around us.
2. Colors and creativity may transform a utility room.
• Using colorful wallpaper in a utility room can add individuality to the space.
• We might also utilize a few spectacular framed artwork, captivating floor tiles, or worktops to add color.
3. Use bright, sun-lit colors to paint the walls of your utility room.
• Stone tiles that are both robust and casual can give your utility areas a tough yet Caribbean appeal.
• Mustard yellow or sun-kissed yellows can add liveliness to your utility spaces. These colors are vibrant, and they are even more appealing and inviting during the monsoon season.
4. Blue skies on the walls provide enclosed walls a unique open-sky sensation.
• Painting one of the walls sky blue color and displaying natural riches such as mountains, clouds, or even flying birds can give a cramped space a wonderfully spacious impression.
• The work area is transformed into a serene paradise with a pleasant touch of calmness.
• To match the walls, you may use brilliant white paint on your cupboards, shelves, and closets.
5. Vertical stacking of washing machines and dryers to save space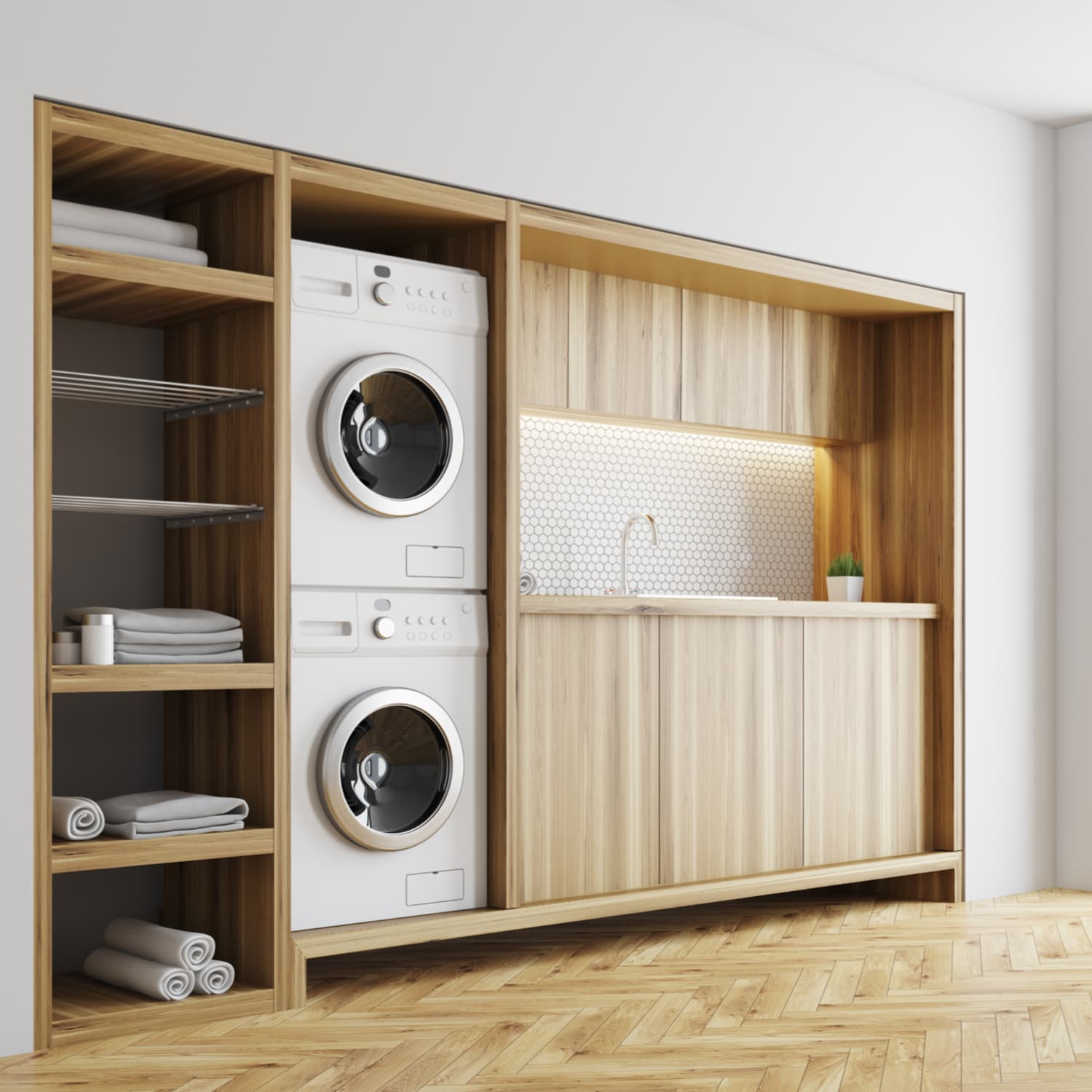 • Stacking the washing machine and dryer is the greatest way to save space while also making it easier to work. This trick is also used by interior design architects, to save space.
• It's a lot easier to pull washed clothes out of the washer and place them in the dryer when the washer and dryer are vertically stacked.
6. When the utility room is situated between two rooms, keep everything open.
• If you don't have a dedicated room and just have 12 to 20 square feet of floor space between rooms, keeping everything open is the best option. It will not only look nice, but it will also be well-organized and optimized.
• One method to achieve this is to match the color of your machines to the surrounding walls.
7. Giving yourself a Visual Treat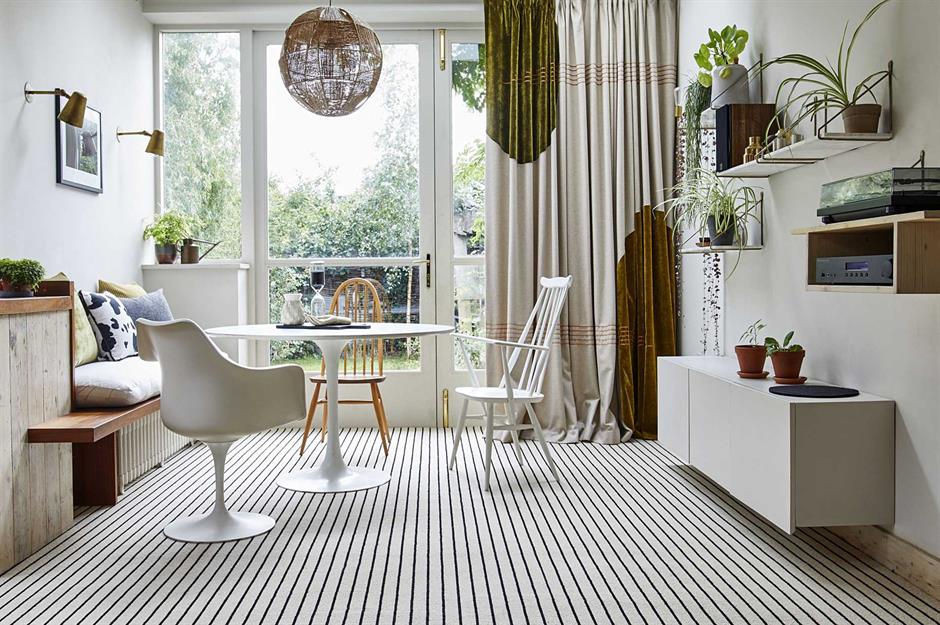 • You can decorate your utility room with products that are both stylish and important for daily chores.
• You can use wooden hangers and wooden rods as well as other accessories (painted in white or black)
8. Bold Colored Doors to conceal washing machine and equipment to make are visible and special 
• This approach can give the illusion of a modern farm-house with doors painted in mustard yellow or orange colors to demarcate the laundry equipment
• Doors painted in such a way create an amazing look, and also evoke the curiosity of what's behind them.
9. Display your laundry detergent and other supplies in plain sight to promote ease and organization.
• Whether it's a liquid detergent, fabric soothers, or other specialist cleaning ingredients, your washing machine needs to have them all.
• To make life easier for you, you may keep things out in the open on well-organized trays or baskets.
10. Miniature drapes to conceal your machines
• It might be creative to conceal the washer and dryer behind a curtain and place a tabletop shelf on top of it. This area can therefore be utilized for something other than laundry, such as an ironing board.
11. Clothing and other household objects can be hung on the walls with hooks.
• A row of wall hooks is simply too convenient for hanging a variety of items such as kitchen supplies, shoe bags, or even piles of ironing or dry-cleaning garments.
• If you paint these hooks the same color as your walls or cabinets/shelves, they'll look great.
12. Have a pet-friendly utility room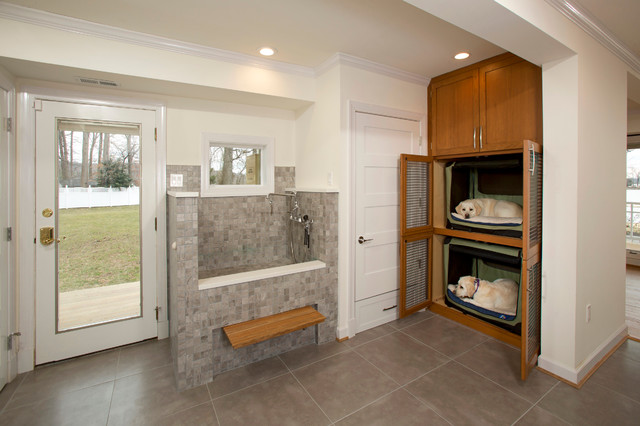 • If you have a pet, it's a good idea to prepare your utility room to handle the weight of your pet, whether it's a dog or a cat.
• All the renowned and famous interior designers would advise you to add wallpapers to compliment the design and to make it more pet-friendly.
13. Use lighting that is appropriate for the task at hand in the utility room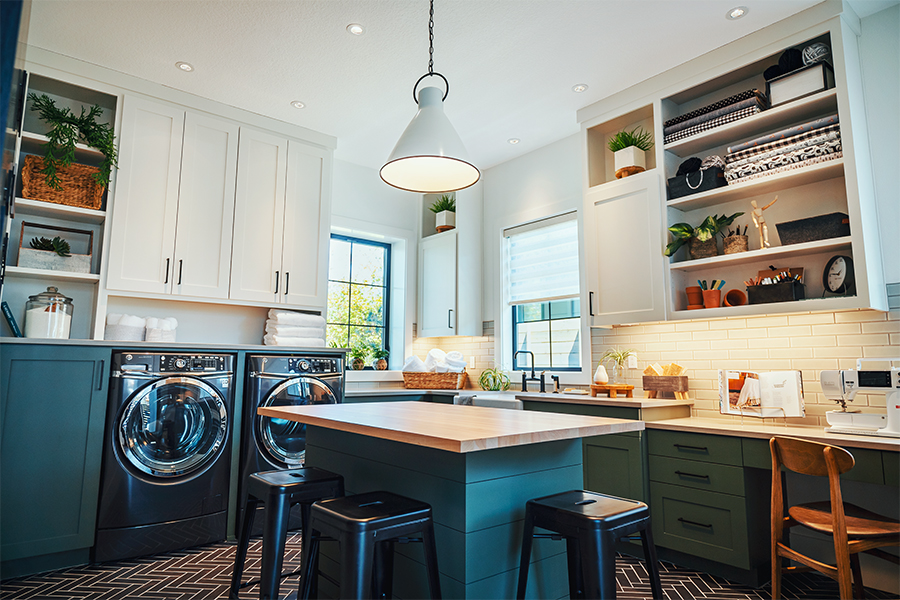 • A utility room requires lighting in certain areas where you must keep a sharp eye while performing tasks such as ironing, shoving dirty linen into the dark corners of the front-load washing machine, and so on.
• A light fitting over a washbasin could make it easier to see while washing small garments or loading up the utility area with heavy utensils that require special cleaning.
Conclusion
You can make a list of how your utility room should look and feel using the ideas or advice combined with your demands. While the interior designers may have suggestions for your utility room, you are the only one who knows your exact requirements. So, choose an interior designer who plans according to your needs.
This is where you'll need us, Deco-Arte is an interior design company in Delhi offering bespoke solutions for residences, restaurants, offices, hotels, and retail showrooms. Contact us for further details regarding our services.